Dreams of Betrayal Sci-Fi Book Series by Steve R. Romano
AUTHOR ~ Steve R. Romano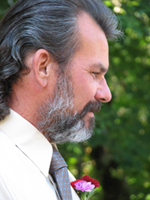 Steve loves the sci-fi genre. His interest started as a child in the 1960's, when Star Trek first premiered on TV. In high school, he was offered an English course reading sci-fi novels, which he thoroughly enjoyed. He was fortunate enough to meet some of his sci-fi heroes when they came to his school to speak: Gene Roddenberry, Theodore Sturgeon and Ray Bradbury. Gene showed the students a film of the 1960's Star Trek bloopers, the film being a treasure from Mr. Roddenberry's personal collection, never before shown in public.
After having several prophetic dreams of betrayal that came true, Steve spent several years writing a four-part series of sci-fi/fantasy novels inspired by those dreams and his other adventures.
Steve's sci-fi background combined with his love of entertaining guests in costume at renaissance festivals were also inspirational in creating his story's characters and its medieval-styled future world devastated by war.



Buy DREAMS OF BETRAYAL sci-fi books at AMAZON.com in paperback and Kindle
amazon.com/author/steverromano