Dreams of Betrayal Sci-Fi Book Series by Steve R. Romano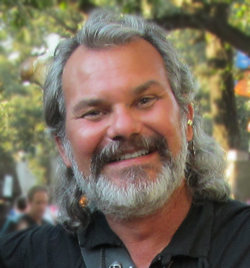 It may have been the year 3021, but the remnants of humanity have lost track of the years long ago. The Ancients who once ruled the world have become nothing more than myth and legend.
Laktos discovers the mysterious ruins that the Ancients left behind and has unraveled the terrible truth of who they were. Though he has eliminated the threat of annihilation by the last of the Ancients' orbiting war machines, he doesn't know that deep beneath the earth, one remaining war complex has been activated, and a new apocalypse is about to be unleashed.
Book 1: DREAMS OF BETRAYAL
With the help of her accomplice Fu-Bar, Queen Lindeur schemes to take over the shire of Capernaum. Though Fu-Bar agrees to carry out the queen's orders to assassinate the king, she is unaware that following the deed, his plans don't include her.

Meanwhile, in the middle of a violent storm, a man in a black cape awakens atop a giant obelisk. With amnesia, the only thing Laktos remembers is his own name, and becomes plagued by recurring dreams of a stranger who is haunted by evil apparitions.

On Laktos' journey to uncover the mystery of his past, he discovers he's an adept swordsman when he encounters a family traveling by covered wagon about to be attacked by highwaymen. His instincts take over and he quickly jumps to action, wielding his broad-sword in an attempt to save them.

Laktos travels aboard the tall ship Morning Star where he meets the love of his life. Wanting to spend the rest of his life with her, he is faced with a dilemma when he learns that an evil wizard plans to destroy the world. Should he settle down with her or risk his life attempting to stop the wizard before it's too late?

Buy DREAMS OF BETRAYAL sci-fi books at AMAZON.com in paperback and Kindle
amazon.com/author/steverromano